Thanks for visiting my website!
If you are thinking about building a new home I can help you turn your dreams into reality. It starts with the fundamentals—listening to you—your lifestyle, your budget and understanding the climate and site conditions of your new home. From there we can find the perfect combination of form and structure to efficiently transform these ideas into a beautiful and practical design for living.
I believe that architecture is an applied art—it is only by thoroughly understanding how projects get built that one can build the best projects. For almost 20 years now years I have focused on building as well as designing. By learning the nuts and bolts of construction I am better able to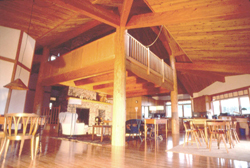 come up with interesting and efficient ways of designing a home that meets your needs—and I am better able to communicate with your contractor to craft a common vision that gets you into the home you want at a cost you can afford.
Good design means elegantly resolving all the parameters that a project presents. I take great pride in my work, but I am not promoting a particular style or my ego. I have worked on many different types of buildings from straw bales to steel and glass—but they all share a common commitment to smart design and construction savvy.
Be sure to check out Suzanne Pedersen's article, "Coming Home", about the process of creating her house—she can put things into words much better than I can.